Syllabus for MOH examination in UAE
by Admin
, MOH, UAE, syllabus
For TCAM written examination only portions from General Medicine (Internal Medicine) will be asked for the written examination. For this it is best to have a thorough knowledge in Practice of Medicine based on Davidson's and Harrison's textbook of Internal Medicine. For familiarizing with the MCQ it is advisable to go to USMLE (US Medical Licensing Examination) type of multiple choice questions from various websites where a number of MCQs are given.

The rank file from your country's MD entrance examination is also a good aid. But remember that your practical knowledge is what counts, especially in the interview. Note that knowledge in your field of specialty (Homeopathy / Ayurveda etc.) is tested only in the interview, if you first pass the written exam. Overall the standard of the examination is in between undergraduate and post graduate (for Homeopathy between BHMS and MD) level of Indian Medical Syllabi.

Last, but not the least- we would like to emphasis once again the point. No one can do any kind of medical practice in UAE without a proper licence from the MOH/DHA/DHCC/HAAD. To get this you need proper qualification and some prior experience from your country of origin. Please do not forget it.

To summerize:
» A comprehensive and up to date knowledge in Practice of medicine and Community Medicine (SPM) is necessary.
» Davidson is the approved text by MOH
» No Homoeopathic / Alternative medicine questions during the theory exams, but liberally during interview.
» Questions are MCQ (multiple choice questions) type with 4/5 answers.
» Remember all the answers are more or less similar but only one is similmum.
» Questions are of PG standard
» Latest investigative procedures and normal biochemical values in International Units are asked for theory and viva.


Now learn MOH with us online through app!
Click here to download the app »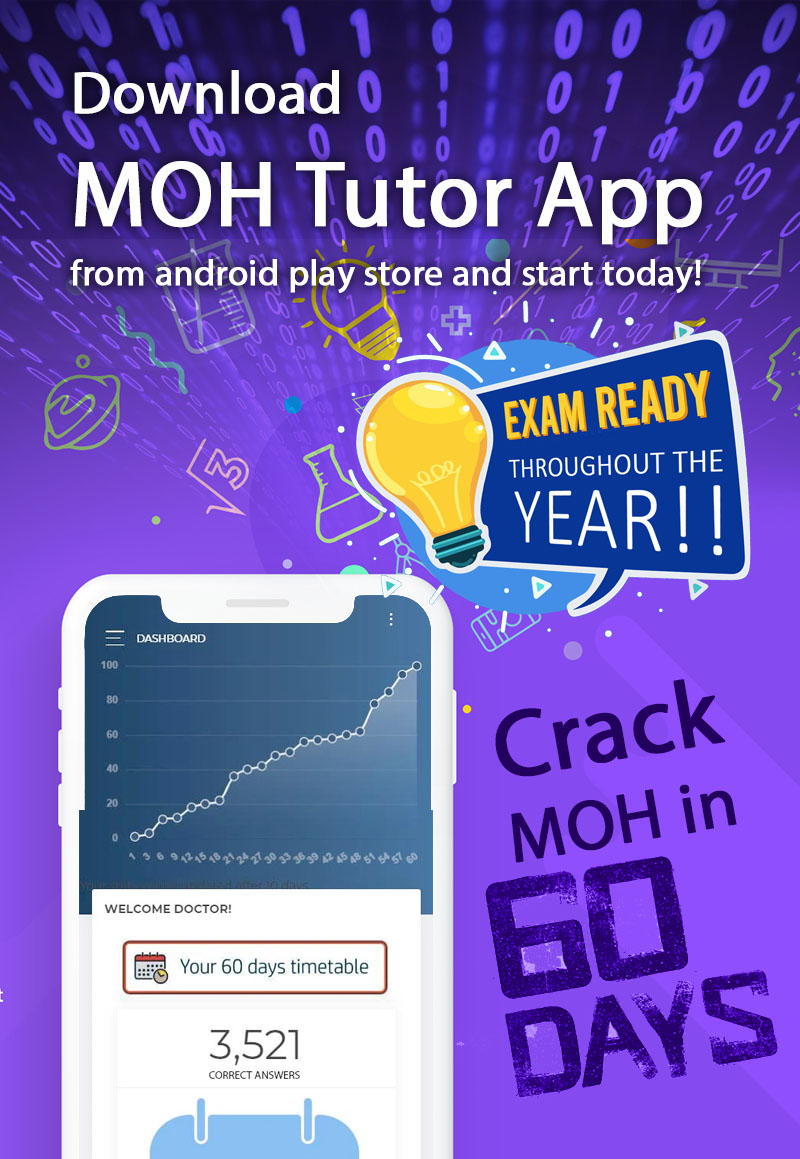 Note that the format for the MOH examination for other medical professionals are a bit different from that of TCAM Examination. These include the examination for Allopathy (like MBBS, MD, FRCP, MRCP), various specialties and super specialties under Allopathy (like Ophthalmology, ENT, Dermatology, Pediatrics) and Dental, Nursing, Pharmacist etc.

RECOMMENDED READINGS
In addition to the slandered text books we advice the following books- these are highly useful
SARP (C.K.Sinha)- PG medical admission test - for last moment revision
Mehta- Practical medicine
Salgunan- Post graduate Medical entrance review
FORD.M.J -1000 MCQ for Davidson- principles & practice of medicines
Sanjay.T - Comprehensive PG Entrnce review
Study materials available in http://www.fleshandbones.com
Study materials available in http://www.surgical-tutor.org.uk
Study materials available at http://www.webhealthcentre.com/mcq/postreg.asp
Remember-Davidson & Harrison are the most standard text book from which majority of the MCQs are compiled
Read at least Harrison Vol.1- you can answer 50% questions

For more information feel free to commend below..
---
---
Aqeel commented:
Hi Pleaase confirm experience letter sholud be attested UAE ambacy?
---
Admin commented:
Attestation is not required. You can proceed uploading the certificate. Thank you.
---
Abdalla Shabo commented:
I have dataflow PSV report from previous application to HAAD. will that exempt me from any steps/fee?
---
Darakhshan ahsan commented:
How to apply from pakistan for MOH for dubai...
---
poojitha commented:
Sir,i completed my pharm-D which licensure exam i need to write to get job as pharmacist
---
Evin commented:
Hi , could explain to me what they actually mean by experience and license ?? because i am Microbiologist and I do not have license !!
---
Javeed commented:
Sir i m doing my oharam d 5th year ..can i get job in saudi..
---
Karishma Sushil Todi commented:
I have completed my M.Sc in Biotechnology with 3 years of experience as molecular biologist (Scientific Officer) in cancer diagnostic lab. I want to apply for MOH license. So please can anyone guide me how should I go about. Thank You
---
sukhpreet pabla commented:
HELLO SIR KINDLY GUIDE ME TO APPLY FOR MOH FROM INDIA. THANK YOU!!
---
Riddhi acharya commented:
I have done masters in ayurveda from india and in last year of my post graduation now awaited for my results.. Is my post graduation considered as work experience? Am i eligible to apply for moh exam
---
Ahmed Anan commented:
Thank you for the information. i am a licesned GP dentist in kuwait how can i obtain the MOH?
---
Asha commented:
Sir i have completed mds orthodontist n i am lookin for a job in uae...so how should i proceed with moh exam?
---
Dr sana ayub commented:
Hi please confirm experience and internship certificate should b attested from uae embessay ? and and tell me about cpr and first aid certificate course is it necessary for applying moh exam if yes then how I can get cpr certificate course ?
---
Dr. Vaaruni Jain commented:
I am a dentist practising in india, the date of issue of my forgien license is 2 months later tgan the date i started practising. Will they accept it, or do i need to work for 2 years according to my forgien licesnce?
---
Mostafa tersawy commented:
hi i am asking if there is any reference for Optometrist MOH exam i need to know the details, please
---
Smita commented:
I took good standing certificate last year... again need to submit this year... what is the cost for moh exam
---
Jennifer commented:
I have a PSv already and my data flow is done suppose to be exam for HAAD.i'm i eligible to take the MOH exam?how can I use my data flow for the MOH licensing?do i need to repeat my data flow?please response yhank you
---
Rahees commented:
Where it is to look at the experience, to complete the course or whether to register the certificate O
---
DR JOHN GIBSON DC commented:
HI I have a Masters in Chiropractic from Macquarie University in Sydney and have been practicing for 19 years - can you advise - would I need to sit examinations to obtain a licence to set up my own independant clinic without Medical Doctor requirement in Abu Dhabi or Dubai - or would I be exempt having this Masters qualification and years of practice- the data from different websites is a little confusing! Many thanks John
---
JINTO PAUL commented:
Hi I have completed bsc nursing and also have 2 years experience in nicu in two different hospitals So this experience is valid or not
---
Dr-Shuvo commented:
Hi Umm as far I know MoH exam doesn't need any Oral interview in UAE rather it needs only Online Exam. & Also noticed Www.prometric.com doesn't have Any MOH exam schedule. Rather only HAAD exam Have. Can you plz confirm it?
---
Bushra commented:
How much one has to pay for reexam to be given?
---
Imran commented:
Sir i have copleted from russia how to give MOH exam?
---
JAWAHAR commented:
1.How much will be the fees to obtain CPR / First aid certificate course in UAE ? Certificate obtained from country of qualification / Experience is considered? 2. Transcript certificate mandatory or shall i make use of individual yearly mark sheets. 3.Where to obtain certificate of good standing and from whom?
---
Dr.JAWAHAR commented:
How much will be the total cost expenditure till obtaining MoH license in UAE ?
---
Nasna Aliyar commented:
I need moh exam syllabus for Microbiologist.
---
Dr Haroon Rasheed commented:
i w ish to appear moh GP exam uae , my data flow is don in feb 2019, i passed DHA exam in march 2019 22:26 Name : Dr haroon rasheed Email : drhrasheed@hotmail.com Phone : 7893434010 Question : Others
---
Aminur Rahman commented:
I am board certified neurosurgeon. All my educational certificates and employment certificates is verified by Dataflow group ( for saudi license) which can be transfered to UAE by dataflow group. But I don' t have basic life support course certificate. My questions are: 1. Do I need submit attested documents ? 2. Isn't it work if I transfer my dataflow PSV report.
---
Dr. Aminur Rahman commented:
I need MOH UAE license- I am postgraduate neurosurgeon (obtained MS Neurosurgery 2005). What exam should I need to face (written / oral/ both). I have dataflow PSV report which I did for saudi council. Dataflow group can transfer the report to other authority upon my request. So how can I proceed with this dataflow PSV report Is it compulsary for specialist doctor to have basic life support course certificate?
---
Dr. Sulaiman commented:
Is first aid course certificate needed for a dentist to appear n moh exam?
---
Mosadag Bushara commented:
I already passed the MOH license exam for dentists in the year 1998 is that license valid anymore ?
---
Rumana Rahman commented:
I logged in MOH.gov.as website.Now how can I proceed for registration. I want to apply for MOH exam as General practioner. What I will select medical evaluation or medical licence.
---
Robertson Mathew commented:
How can I apply for Kuwait MOH from India and What are the requirements? Can I writ the Exam from Kerala, India?
---
VISHNUPRIYA.V.J commented:
I am a neurotechnologist. Now am working in a private hospital since 2014. I want to apply for MOH license. So please can anyone guide me how should I go about. Thank You...
---
ayesha commented:
I have a PSv already and my data flow is done suppose to be exam for HAAD.i'm i eligible to take the MOH exam?how can I use my data flow for the MOH licensing?do i need to repeat my data flow?please response yhank you
---
Irfan Ullah commented:
Can i apply for MOH exame for phlebotomist in Pakistan Please detail me inform How I'm apply for phlebotomist exame in UAE
---
sharma commented:
is there any negative marks for haad or moh exams
---
Marwa kassoumeh commented:
Someone told me that the MOH exam is taken online, we do not take the exam at certain center. How can I find out if the above information is correct or not?
---
Archana commented:
Sir,I have one year experience after post basic Bsc nursing and still working in kerala.can I attend moh exam in UAE?I have already 3 times attempted in 2013. Please reply
---
Vijay commented:
Am in visit visa now. am a homeopathy doctor (bhms) holder. how to apply for moh exam how much it will cost and the time. please tell me
---
---